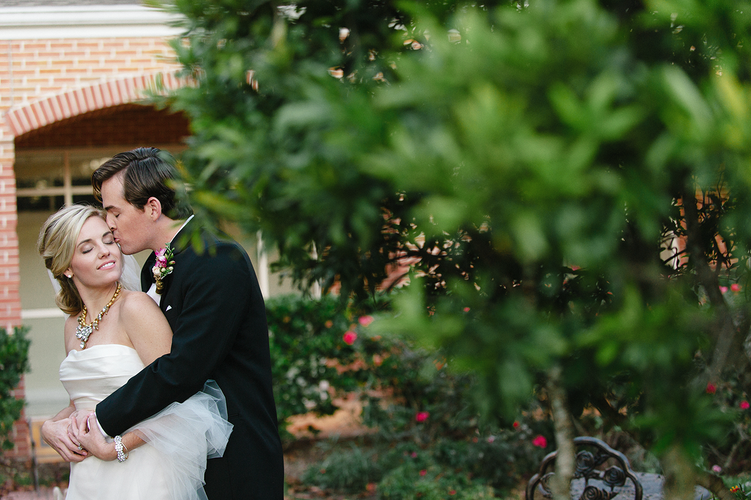 With Valentine's Day around the corner it's a perfect time to set up a couple warm and fuzzy posts showcasing some Merrick Jewels brides. Seeing these beauties makes me want to get married all over again (with the same man y'all) and beef up my hardware. 
Not that a single strand of freshwater pearls for your wedding day is not beautiful I've just worn bigger pieces of jewelry to the grocery store.  Need. to. represent. 
Jennifer got married in late December in Sugarland, TX. Labeled rustic chic (think crystals, mercury glass votives in a rodeo arena with pulled pork mashed potatoes, YUM) she killed it in not just one Merrick Jewels necklace but TWO. You lucky girl. This necklace is hand knotted faceted navy glass beads with buttery velvet bow and vintage rhinestone pendant. She actually wore this necklace as her "party piece" for the reception (I told her this one was more
danceable
 and the girl likes to dance) but these pictures are from her gorgeous bridals. 
The other necklace for the ceremony is oldie but a goodie. As one of my first big statement necklaces that I made after starting full-time, this one is always a stunner. Vintage hammered gold chain with carefully curated one of-a-kind vintage rhinestone pieces make this necklace sparkle. I could see it all the way from the back row of the church. Bravo. 
Beaming bride after the ceremony...
Same necklace on the cover of Indulge magazine in September 2009
Congrats John and Jennifer! What a gorgeous couple!
If you're looking for your own one of-a-kind piece for your big event email me at merrick@merrickjewels.com and let's start planning!!